Study of histopathological changes and the levels of TNF-α in Preterm Preeclamptic women
Keywords:
Preeclampsia, preterm birth, Trichrome stain, TNF- α
Abstract
Preeclampsia (PE) is a significant contributor to maternal morbidity and mortality that manifests as new-onset hypertension after 20 weeks of pregnancy with signs of uteroplacental or maternal organ dysfunction or proteinuria. This condition is linked to intrauterine growth restriction, preterm birth, placental abruption, fetal distress, and fetal death in utero. The findings of the recent study can be summed up as follows: Hematoxylin and eosin staining of placenta tissues revealed a significant area of calcification in the villous stroma. Additionally, increased collagen fibers around blood vessels and varying degrees of mononuclear cell infiltration are caused by capillary and vein congestion. The Masson's Trichrome stain revealed deposited fibrin between decidual cells and extra-villous cytotrophoblasts, which were surrounded by mature intermediate and terminal villi. Congestion of veins with increased fibrin deposits around veins and arterial vessels with increased fibrocytes When the data was statistically analyzed, it was discovered that PE pregnant women had significantly p<0.05 higher levels of serum   TNF- α  , than normotensive women (  NT ). Finally, the study found a link between preterm PE and women's pregnancy, as well as histopathologic and immunological parameters in preterm PE and NT women.
References
• Agarwal R, Tiwari A, Wadhwa N, and Radhakrishnan G. (2017). Placental histopathological findings in preterm/term and early/late onset small for gestation age. Indian Journal of Pathology and Microbiology: 60 (2); 232-235 . DOI: https://doi.org/10.4103/IJPM.IJPM_390_16
• Ahmed M, Alqosaibi M, Mohamed A and Soliman M. (2019). Evaluation of Some Cytokines and Gene Expressions in Pre-eclampsia . Pakistan Journal of Biological Sciences . 22(3):148-153 . DOI: https://doi.org/10.3923/pjbs.2019.148.153
• Benton S, Ly C, Vukovic S, Bainbridge S, and Andrée G. (2017). award lecture: Metabolomics as an important modality to better understand preeclampsia. Placenta 60, S32–S40. DOI: https://doi.org/10.1016/j.placenta.2016.11.006
• Black K, and Horowitz J. (2018). "Inflammatory Markers and Preeclampsia: A Systematic Review," Nursing Research. 67(3): 242–251. DOI: https://doi.org/10.1097/NNR.0000000000000285
• Brown M, Magee L, Kenny L, Karumanchi S, McCarthy F, and Saito S. (2018). The hypertensive disorders of pregnancy: classification, diagnosis & management recommendations for international practice," Pregnancy Hypertension: An International Journal of Women's Cardiovascular Health,. 72(1):24-43.
• Burwick R, Velasquez J, Valencia C, Gutiérrez-Marín J, Edna-Estrada F, Silva J, Trujillo-Otálvaro J, Vargas-Rodríguez J, Bernal Y and Quintero A. (2018). Terminal Complement Activation in Preeclampsia. Obstet. Gynecol. 132(6):1477-1485 DOI: https://doi.org/10.1097/AOG.0000000000002980
• Du L, He F, Kuang L, Tang W, Li Y, and Chen D. (2017). eNOS/iNOS and endoplasmic reticulum stress-induced apoptosis in the placentas of patients with preeclampsia.J. Hum Hypertens. 31:49–55. DOI: https://doi.org/10.1038/jhh.2016.17
• Falco M Sivanathan J, Laoreti A, Thilaganathan B and Khalil A. (2017). Placental histopathology associated with pre-eclampsia: systematic review andmeta-analysis. Ultrasound Obstet Gynecol ;50(3):295-301. DOI: https://doi.org/10.1002/uog.17494
• Fisher SJ. (2015)."Why is placentation abnormal in preeclampsia?" American Journal of Obstetrics & Gynecology, vol. 213, suppl 4, pp. S115–S122. DOI: https://doi.org/10.1016/j.ajog.2015.08.042
• Gill M, Motta-Mejia C, Kandzija N, Cooke W, Zhang W, and Cerdeira A. (2019). Placental syncytiotrophoblast-derived extracellular vesicles carry active NEP (neprilysin) and are increased in preeclampsia. Hypertension. 73:1112–9. DOI: https://doi.org/10.1161/HYPERTENSIONAHA.119.12707
• Goswami P, Memon S and Pardeep K. (2013). Morphological, histological and radiological study of calcified placenta and its relation with fetal outcome . IOSR Journal of Dental and Medical Sciences. 7, (6) : 82-88 . DOI: https://doi.org/10.9790/0853-0768288
• Gray L, Westerhof M and MacLeod A. (2018).The roles of resident, central and effector memory CD4 T-cells in protective immunity following infection or vaccination . Immunology, 154 .pp. 574-581. DOI: https://doi.org/10.1111/imm.12929
• Guid j, Surita F, Parpinelli M and Costa M. (2018). Preterm Preeclampsia and Timing of Delivery:A Systematic Literature Review .RevistaBrasileira de Ginecologia e Obstetrícia . 39(11):622-631. DOI: https://doi.org/10.1055/s-0037-1604103
• Gyselaers W. ( 2020). Preeclampsia Is a Syndrome with a Cascade of Pathophysiologic Events. J. Clin. Med. 9, 2245. DOI: https://doi.org/10.3390/jcm9072245
• Jean C, Shanthi M, and Eric J. (2017). The role of tumor necrosis factor-receptors in pregnancy with normal and adverse outcome. International Journal of Interferon, Cytokine and Mediator Research 2012:4 DOI: https://doi.org/10.2147/IJICMR.S22848
• Keche H. (2015). Morphometric differentiation between placenta in PIH and normal pregnancy. Int J Med Sci Public Health. 1(4):250-255. DOI: https://doi.org/10.5455/ijmsph.2015.0711201457
• Kumari V, and Sinha U. (2016). Histopathological and gross anatomical study of human placenta in patients with preeclampsia. J Evidence Based Med Healthcare. 1;3(59):3162-5. DOI: https://doi.org/10.18410/jebmh/2016/687
• Manoj K, Sharma N, Petitt M, Maulik D, and Nayak N. (2020). Pathogenesis of Preeclampsia and Therapeutic Approaches Targeting the Placenta. Biomolecules . 10, 953 . DOI: https://doi.org/10.3390/biom10060953
• Marijke M, Faasa B, and Paul V. (2018). Innate immune cells in the placental bed in healthy pregnancy and preeclampsia. Placenta . 69: 125-133 . DOI: https://doi.org/10.1016/j.placenta.2018.04.012
• Mawardi R, Akbari G, Sarma N, and Lumbanraja T. (2019). Levels Of Interleukin-6 And Tumor Necrosis Factor Alpha In Pregnant Patients With Preeclampsia And Patients With Normal Pregnancy . 25(2): 199-201 . DOI: https://doi.org/10.24293/ijcpml.v25i2.1171
• Moussa HN, Arian SE, and Sibai BM. (2014). "Management of hypertensive disorders in pregnancy," Women's Health Journal. 10(4): 385–404. DOI: https://doi.org/10.2217/WHE.14.32
• Odibo A, Patel K, Spitalnik A, Odibo A, and Huettner P. (2014). Placental pathology, first-trimester biomarkers and adverse pregnancy outcomes . Journal of Perinatology 34, 186–191. DOI: https://doi.org/10.1038/jp.2013.176
• Ojha K, Suniti1 R, and Abhimanyu J (2018). Placental Pathology in Severe Pre-eclampsia and Eclampsia . Nepalese Medical Journal. 1, 32 -35 . DOI: https://doi.org/10.3126/nmj.v1i1.20397
• Sarwor A, and Iftikhar T. (2016). Comparative study of obstetrical outcome of younger and older primigravida . Ann .Pak. Med.: 1815, 2287.
• Schumacher A, and Zenclussen A. (2019). Human chorionic gonadotropin-mediated immune responses that facilitate embryo implantation and placentation. Front. Immunol. 10, 2896. DOI: https://doi.org/10.3389/fimmu.2019.02896
• Serina Y. (2018). Predictive value of tumor necrosis factor alpha (TNF-a) in preeclampsia. European Journal of Obstetrics & Gynecology and Reproductive Biology 100 . 143–145 . DOI: https://doi.org/10.1016/S0301-2115(01)00484-5
• Shaw J, Tang Z, Schneider H and Hansson S. (2016). Inflammatory processes are specifically enhanced in endothelial cells. J.P.lacenta 43 . 1-8. DOI: https://doi.org/10.1016/j.placenta.2016.04.015
• Siva K, Adaline T, Mallika M, and Indira M. (2017). Morphological and histological variations of human placenta in hypertensive disorders of pregnancy. Int J Anat Res. ;5(1):3591-98. DOI: https://doi.org/10.16965/ijar.2017.115
• Todros T, Paulesu L, Cardaropoli S, Rolfo A, Masturzo B, Ermini L, Roberta R, and Ietta F. (2021). Role of the Macrophage Migration Inhibitory Factor in the Pathophysiology of Pre-Eclampsia . Int. J. Mol. . 22, 1823. DOI: https://doi.org/10.3390/ijms22041823
• Verlohren S, Melchiorre K, Khalil A, and Thilaganathan B. (2014). Uterine artery Doppler, birth weight and timing of onset of pre-eclampsia: providing insights into the dual etiology of late-onset pre-eclampsia. Ultrasound Obstet Gynecol. 44:293-298. DOI: https://doi.org/10.1002/uog.13310
• Vijayalakshmi B, and Sunitha K. (2015). A Study of Histopathological Changes of Placenta in Pre-Eclampsia and Perinatal Outcome. Journal of Evolution of Medical and Dental Sciences.4:11667-73. DOI: https://doi.org/10.14260/jemds/2015/1682
• Vokalova L, Balogh A, Toth E, Van Breda S, Hoesli I, Lapaire O, Hahn S, Than N, and Rossi S. (2020). Placental protein 13 (Galectin-13) polarizes neutrophils toward an immune regulatory phenotype. Front Immunol. 11, 145 . DOI: https://doi.org/10.3389/fimmu.2020.00145
• Wallingford M, Benson C, Nicholas W, and Frasch M. (2018). Placental Vascular Calcification and Cardiovascular Health: It Is Time to Determine How Much of Maternal and Offspring Health Is Written in Stone . Front Physiol. 9: 1044. DOI: https://doi.org/10.3389/fphys.2018.01044
• Youssef IK, Ghareeb M, and Mahdy E. (2020). Pregnancy outcomes in Pregnant Women for the First Time after the Age of Thirty Five Years. Zagazig University Medical Journal,; (955-961).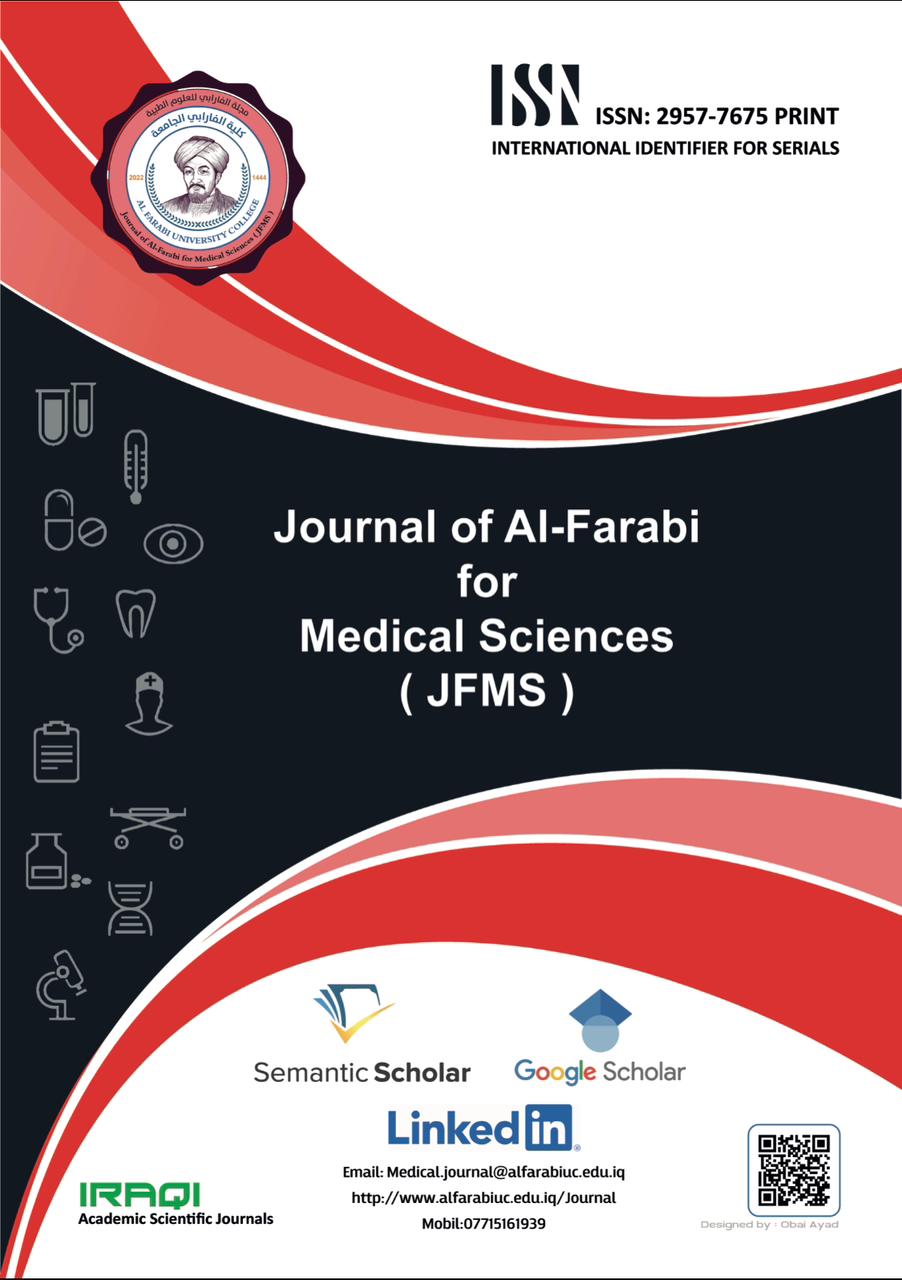 Downloads